Lace is one of those simple little touches that immediately elevates any project. I definitely do not utilize it enough. Hence, I am super excited to join the Lace Summer Blog Tour hosted by Love Notions Patterns* and give myself an excuse to incorporate some lace.
My sister in law is getting married this weekend and I knew I wanted to make myself a new dress to wear for the wedding. Her only request was my dress match her wedding colors of blush pink, silver, and mauve. I found some gorgeous fabric at So Sew English titled blush/mauve floral and knew it was the one. It is a single brushed poly. Normally, I avoid polyester in the summer because it is too hot. Fortunately, the wedding is in Seattle, and it is not near as hot up there as it is here in Arkansas. Once I got the fabric, it was just as pretty in person, but I was stuck and didn't know what I wanted to do with it. Then I found out about the Lace Tour, and the wheels started turning in my head…
Love Notions recently updated their Willow Wrap Dress*. I already loved the original pattern, and all the pictures I saw of the new version looked fantastic. Then it hit me, a Willow Wrap Dress with a lace accent neckline would be perfect for the wedding!
The updated pattern includes an option for flutter sleeves. My sister in law chose flutter sleeves for her bridesmaids' dresses so I knew she was a fan of them. I've never done flutter sleeves but they were super simple and turned out so cute.
And the lace neckline!!!!!!! It is everything I hoped for and more. It gives the dress the perfect touch and helps dress it up just a notch.
I am so pleased with how my Willow Wrap Dress* turned out and can hardly wait for the wedding this weekend. Hopefully, my sister in law loves it just as much as I do. Although, I'm sure she'll be so caught up in her special day that she probably won't pay too much attention to it. But that's OK, I love it and I will feel fabulous in it.
Make sure to follow the rest of the bloggers on tour this week with the Lace Summer Blog Tour. I've seen the sneak peaks and there are some gorgeous creations!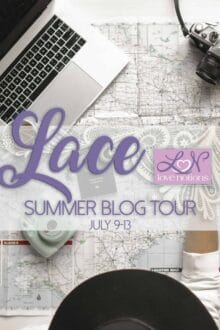 Monday: Sewing Curves SewSophieLynn Kainara Stitches
Tuesday: doodlenumber5 My Heart Will Sew On Third Shift Creations
Wednesday: Princesse et tresors Phat Quarters
Thursday: All Things Katy! Back40life
Friday: Sew Like a Sloth Very Blissful Seamly Behaviour
*Disclaimer: This post contains affiliate links. If you use my links to make a purchase, I may receive a small kickback at no additional cost to you.